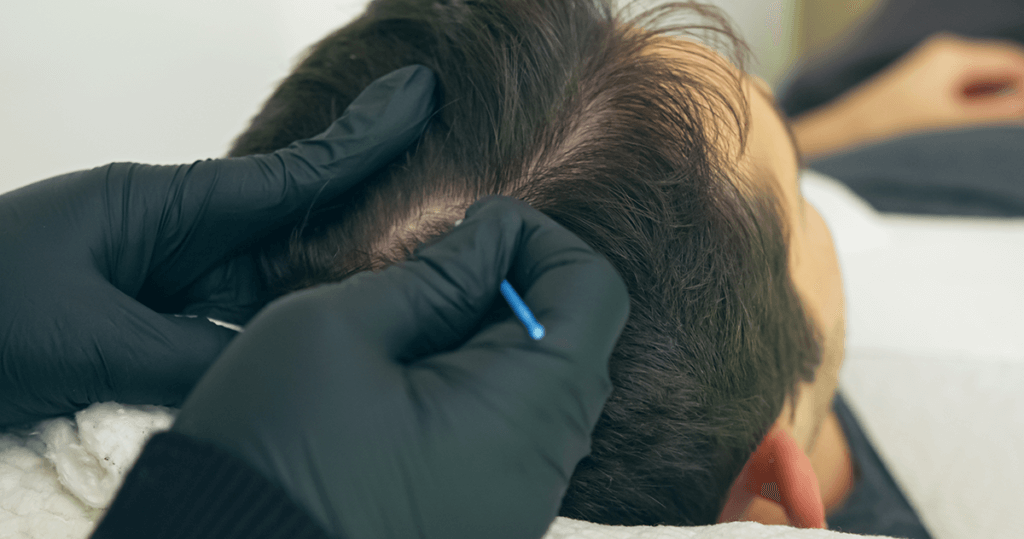 Scalp Micropigmentation
Hair loss tends to take the joy out of your life. Finding strands of hair in your brush, chair, and bathroom drain is frustrating, but there are ways out of this gloomy ride.
Scalp Micropigmentation is one of the alternatives for treating especially thinning har. This treatment instead of or in concert with medical treatments such as Minoxidil or hair transplants such as FUE or DHI has become a popular hair loss treatment for many Brits.
What Is Scalp Micropigmentation?
Scalp micropigmentation hair loss treatment is a less painful and more practical form of a hair tattoo.
It entails using a high-power tattoo device to penetrate scalp skin and introduce pigment to camouflage a hairy scalp. These pigment layers and hues create numerous dots that blend in with your complexion. So, they eliminate the lighter areas and give a fuller, freshly shaven look to your scalp.
Scalp micropigmentation has been around for many decades but became particularly famous in the UK in 2002. It was the time when Ian and Ranbir Rai Watson tested the equipment and pigment for micropigmentation. They also performed the treatment successfully in their clinic for the first time. Since then, millions of Brits have benefited from scalp micropigmentation.
Scalp micropigmentation needs specialized equipment and utilizes a special medical technique. It may resemble a traditional hair tattoo in appearance, but only a registered practitioner should perform it.
The treatment outcome varies from person to person and even in different regions of the scalp. For example, the scalp with scaring has a different response to pigment than normal or atrophic skin. So, it needs a constant adjustment of the technique according to the skin type of the individual, which only a trained medical professional can achieve.
Procedure and timeline
1. Consultation
The consultation sets the foundation for the procedure by building a relationship between you and the practitioner. It consists of:
Practitioner explaining the procedure of scalp micropigmentation
Examination of the scalp for skin tone, hair loss patterns, and determining scalp conditions
Deciding the number of needles and the nature of pigmentation suitable
Working together to create a new hairline considering the facial features
Setting a timeline and number of sessions for the procedure
This consultation also allows you to align your expectations with achievable outcomes.
2. Procedure
The length of the procedure is variable and depends on the individual case. For example, some people need two to three sessions, while others may need more to achieve a fuller look. Each session takes 2 to 3 hours and has a gap of 10 days within two appointments.
First session: Your practitioner creates a hairline to define the shape and style for further treatment in the first session. It lays a foundation for follicular replication because the rest of the procedure involves filling around the hairline.
The second session: is typically performed after 7 to 14 days. In this session, the practitioner builds on the already defined hairline and gives it a refined and denser look. This layering solidifies the process and includes different hues according to the follicular color.
The third session: is typically performed after 10 to 17 days. It is more of a touch-up and finishing session for a final look. Again, some people may need more sittings, but most get their desired look in three sessions.
The process, while not entirely painless, hurts far less than the traditional hair tattoo. The practitioner applies a topical or injectable anesthetic gel for numbing the skin, but you may feel mild discomfort.
3. Recovery
You may experience mild redness or soreness after the treatment, but it recovers quickly.
4. Touch-ups
While SMP hair treatment is relatively long-lasting, the pigment fades with time. It also has green and blue hues, which become prominent over the years. So, you have to get touch-ups after a few years.
What does hair pigmentation cost?
The hair tattoo cost varies depending on the intensity of follicular loss and the area that needs coverage. Patches are cheaper to cover, while full hair pigmentation takes more time and effort, increasing the cost significantly.
The scalp micropigmentation UK cost is up to £3,500 for a full head because the expertise and equipment are expensive.
A Scalp micropigmentation session on the hairline or the crown goes from £1,000 and upwards depending on the area. But small patches cost you anything around £1,000 to £1,500 approximately.
Scalp micropigmentation price also depends on the region; for instance, in London, the clinics charge far more for a hair tattoo than other cities.
In Turkey, a full scalp micropigmentation treatment will cost you somwhere between £500 and £1000. In comparison to the UK it is thus much cheaper. Treating small areas of hair loss might not be worht the travel and hotel cost though.
Is It Worth Going To Turkey For Scalp Micropigmentation?
The scalp micropigmentation cost in Turkey is around £600 for patchy areas to about £1200 for a full head. It may sound like a good bargain (and for many, it does work), but you also need to consider traveling costs.
Flight: approximately £200 to £250
Accommodation: £40 upwards for a 4 to 5-star hotel
Cost of unpaid off days from work: depending on your salary
Travel insurance
Covid-19 PCR and quarantine cost
However, there's a healthy chance it may still be lower than scalp micropigmentation cost in the UK.
Therefore, the question "is it worth doing in Turkey for UK citizens?" has no simple answer. It depends on many factors, and everyone needs to decide according to circumstances related to travel, work schedule and flexibility, and affordability.
Can the procedure be done for all hair loss symptoms?
Usually, the perception is that scalp micropigmentation is a hair tattoo for balding, but it is far more than that. These are the conditions that can benefit from scalp micropigmentation:
Thinning hair: Scalp micropigmentation for thinning hair proves compelling because it can cover the patches and give a denser look despite less hair volume. It increases the shadow of follicles and fills gaps. You can also use it to decrease the receding hairline.
Alopecia Areata: It is patterned hair baldness primarily common in men due to genetics, hormonal or autoimmune reasons. People with alopecia areata can use scalp micropigmentation to decrease scalp visibility in this condition.
Scarring: People do not use scalp micropigmentation for hair loss only but also to deal with scalp conditions. It can help you hide surgical scars or scalp scarring due to skin conditions.
In conjunction with other procedures: You can also undergo scalp micropigmentation along with PRP and hair transplant to enhance their final results.
Other areas: Scalp micropigmentation also has a beard version where you can have a freshly shaven look for your beard. Moreover, Microbalding is a procedure that uses the same technique as scalp micropigmentation, except it is for the eyebrows.
Clinics in United Kingdom VS Turkey
Turkey has become a famous medical tourist destination for Brits. Since the living cost in Turkey is cheaper than in the UK, scalp micropigmentation cost in turkey is also significantly lower.
Pros of getting scalp micropigmentation abroad
Some of the benefits of scalp micropigmentation in Turkey are:
Low cost: The whole trip to turkey and procedure expense may cost you lesser than scalp micropigmentation London cost.
Tourism: You get a chance to enjoy new culture and experience sightseeing.
Easy accessibility: the UK to Turkey flight time is short, and you can reach the country without hassle.
Cons of getting scalp micropigmentation abroad
Unpredictable timeline: Scalp micropigmentation may need multiple sessions to achieve a desirable outcome. It means more days off from work and higher accommodation prices.
Unpredictable Cost: The final price for the procedure itself is unknown until you get a consultation and the practitioner reviews your case. So, you can only get a cost until you land in Turkey.
Travel Insurance: You also need travel insurance to cover other medical emergencies during your stay in Turkey, and it can add up to a significant amount.
Aftercare: Many people fly back immediately and don't receive proper aftercare, impacting their final result.
Follow-up: If you are not satisfied with the treatment you receive in Turkey, you need to return or seek a practitioner in the UK, increasing the cost.
Covid-19 Travel: With Covid-19, you need to consider the cost, visa restrictions, and quarantine rules of Turkey.
Risks and adverse effects:
So, what exactly are the scalp micropigmentation side effects? Not many. You may have scalp micropigmentation regrets if you don't understand the procedure and align it with your expectations.
Considerations:
If you want to have your hair grow, you are not a candidate for scalp micropigmentation.
Scalp micropigmentation is low-maintenance compared to PRP or hair transplant, but it still needs touch-ups after 2 to 4 years.
Since SMP is like a hair tattoo, many tattoo artists also perform it without getting adequate expertise. But the process needs in-depth evaluation of skin for choosing the correct pigment and technique. So, you need to find an experienced practitioner
Scalp Micropigmentation Advantages
It does not need extensive surgery
The recovery period is short, and aftercare is not extensive
You don't need PRP or other treatments to maintain it
You can choose the style you want for your hairline
You can select the amount of layering and density for the desired look
If you change your mind, you can opt for other treatments safely
Scalp Micropigmentation Disadvantages
It does not grow hair
It fades with time and needs touch-ups
Aftercare for Scalp Micropigmentation
A few things you need to be cautious about are:
Don't go out in the sun for at least four days after the treatment.
After the fifth day, you may expose your skin to the sun for an hour, but total exposure is suitable after 28 days.
Always use sunscreen with SPF 30 to 50.
Avoid swimming, a sauna, and a hot bath for four days after each session.
Moisturize your skin after four days of each treatment session and continue doing it.