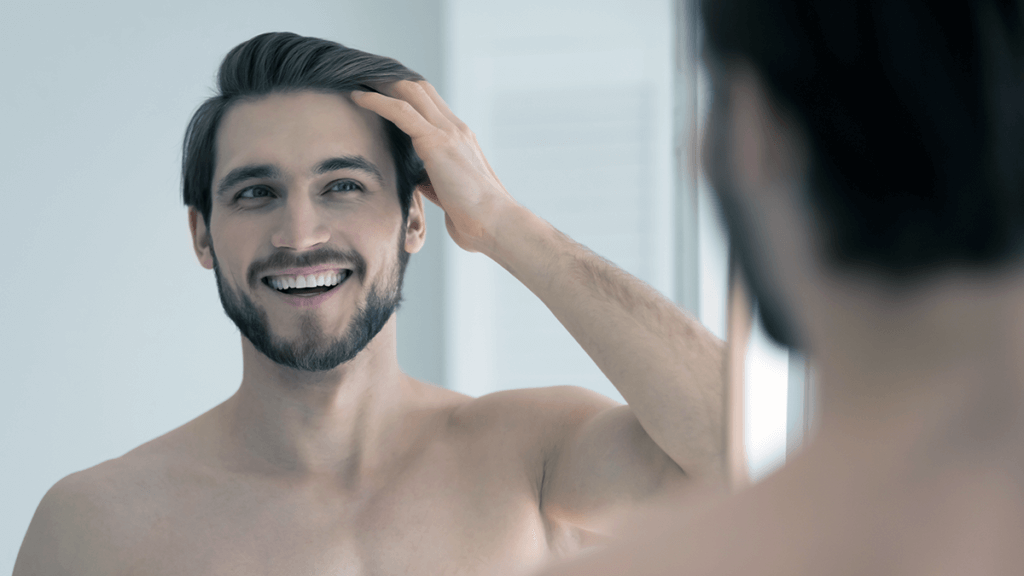 CLINIC REVIEW
The Smile Hair Clinic hair transplant
The Smile Hair Clinic is a baby in the cosmetic clinic world, having only been founded in 2018 by Drs. Gökay Bilgin and Mehmet Erdagon. Both Dr. Bilgin and Dr. Erdagon have dedicated years of their time to developing one of the most world-famous FUE hair transplant techniques.
The Smile Hair Clinic not only serves hair cosmetic treatments but a variety of medical aesthetic applications. The motto by which the clinic abides is "promote a family atmosphere to patients", ensuring that all of their customers are made to feel at home and feel safe.
To date, over 1,500 patients from all around the world have gone through a hair transplant procedure under the care of Dr. Bilgin and Dr. Erdagon, and all of them have been completely satisfied with the success of their transplant.
Patients at the Smile Hair Clinic are given the exact same quality of care and receive only the newest and most innovative technology in hair transplantation. Both Dr. Bilgin and Dr. Erdagon pride themselves on maintaining their professional development in order to provide the best hair transplant techniques. As a result, both surgeons carry out the Sapphire FUE Transplant – a leading FUE transplant surgery.
---
The clinic was found by two surgeons Dr. Bilgin and Dr. Erdagon, and then they were joined by Dr. Firdavs Ahmedov in 2021.
Dr. Bilgin is a hair transplant surgeon and aesthetic physician who specializes in unique and niche FUE transplant methods.
Dr. Erdagon is a hair transplant surgeon who shares the same passion for the niche FUE transplant methods as Dr. Bilgin, such as the Sapphire FUE transplant and micromotor extractions.
Dr. Ahmedov is an associate member of the Internation Society of Hair Restoration Surgery and an innovative hair transplant surgeon specialising in a variety of unique FUE transplantation methods.
All three doctors are surrounded by a network of professional staff who are all expertly trained in hair transplantation surgery to ensure that the maximum potential of the clinic can be in operation at all times.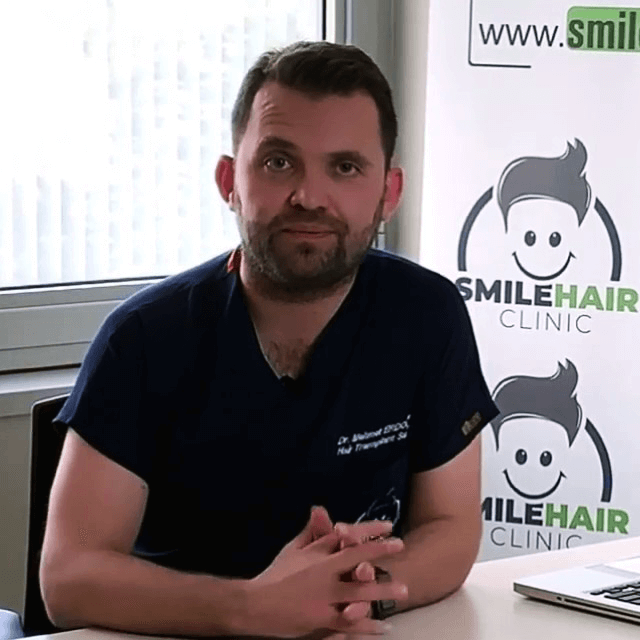 This is "xxxx", "xxx" one of the more experienced doctors performing both FUE and FUT procedures at the Harley street clinic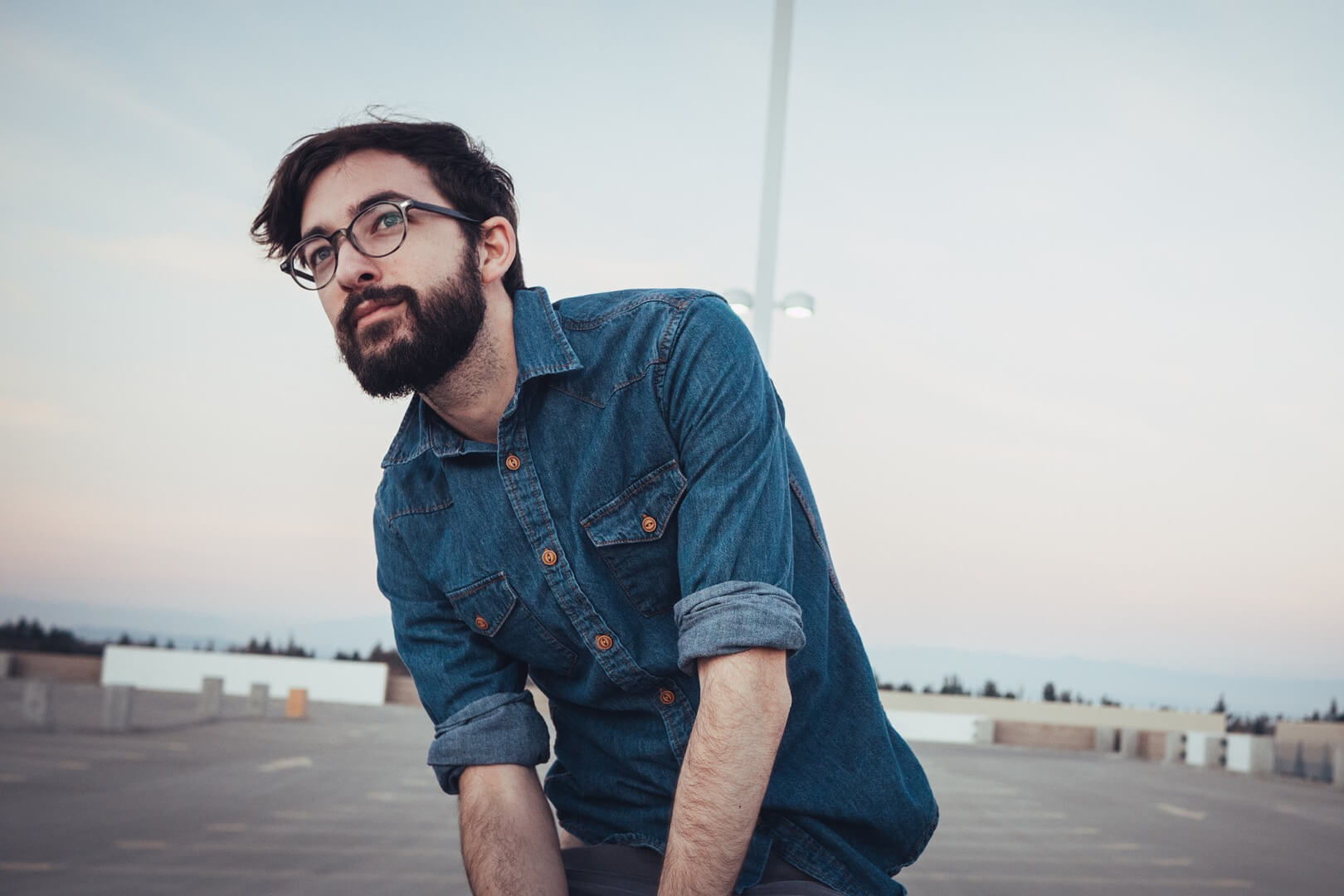 Get the best offer on your future transplant
By comparing the prices of several clinics, you can lower the cost of FUE, FUT or DHI procedures by up to 75%. We collect campaigns, offers and special deals from over 20 clinics in the UK and in Turkey that will give you a clear comparison, that amongst other things will hint at how many grafts you may need
---
With three expertly trained and renowned hair transplant surgeons available at the Smile Hair Clinic, you can rest assured knowing that there will be a variety of hair transplant procedures offered at the clinic.
Sapphire FUE Transplant – All three surgeons specialize in carrying out a FUE hair transplant using sapphire blades. These blades are made from synthetic sapphire and are hundreds of times harder than steel. Sapphire blades are used to perform more precise and smaller incisions which help reduce scarring and allow for the perfect transplant.
DHI Transplant – one of the most popular transplants methods out there, the DHI transplant involves extracting grafts using micro-FUE techniques which are then directly implanted into the area of transplantation without a channel opening. This works by the use of a transplantation pen.
Beard Transplant – Those of you who happen to suffer from patchy, uneven, or thinning beards can benefit from a beard transplant which is performed by all three surgeons.
Body Hair Transplant – By using similar techniques to those used on the scalp, all three doctors can extract donor hair from the back of the head and implant it anywhere on the body.
Eyebrow Transplant – Men and women have been caring for their eyebrows for thousands of years. Eyebrows are essential in maintaining our facial symmetry and allow us to express emotion. It comes as no surprise that all three surgeons at the Smile Hair Clinic can perform an eyebrow hair transplant.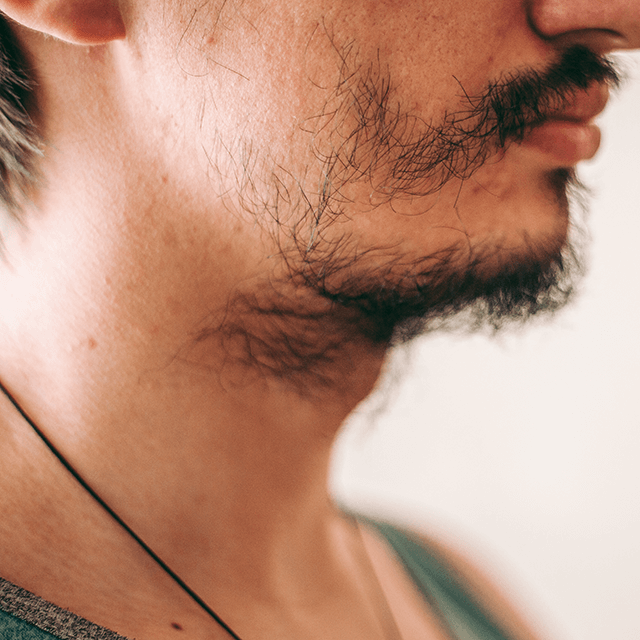 A patchy, incomplete or otherwise ugly beard is one of the areas that Smile Clinic perform hair transplants on.
Read more on Beard transplants in general here.
Treated Hairloss Symptoms
Hair loss can be caused by a variety of factors which are more often uncontrollable and unpreventable. However, thanks to advancements in medical technology, doctors are able to treat a variety of these conditions by using medication and minimally invasive surgical techniques.
The following hair loss symptoms can be treated at the Smile Clinic:
Male and female pattern baldness – This condition is typically caused genetically and is otherwise known as androgenetic alopecia. Most men over the age of 30 will experience some form of male pattern baldness, and 30% of females will have experienced female pattern baldness. Depending on the stage of the norwood scale which your hair is at, you can get treated at the Smile Hair Clinic.
Alopecia Barbae – Otherwise known as beard balding, this condition occurs as a result of alopecia areata, which is an auto-immune condition causing the body to fight off its own hair follicles. Various transplant procedures and medications can help treat this condition.
Fungal Infections – Infections such as ringworm can cause bald patches on your face or scalp. However, these can be treated using a course of anti-fungal drugs and then using a hair regrowth medication such as minoxidil or finasteride.
The transplanting process
---
The hair transplant process at the Smile Hair Clinic is unique and allows for a different insight into expert patient care.
The first stage of your hair transplant process is to book a flight over to Turkey and arrange an appointment at the clinic. Once your appointment has been confirmed, the clinic can arrange a car to pick you up directly at the airport.
During your consultation, you will be assessed to identify the type of hair loss from which you are suffering, any medical history, and any family history that may be relevant to your hair loss should be explained. Alternatively, you can opt for the online consultation and send pictures of your head from all sides, as well as the information regarding your medical and family history in order for a treatment plan to be devised for you in just a few hours.
Once the treatment plan is devised, you will be briefed on what to do before your procedure, such as stopping certain medications for a period of time before your surgery, not getting a haircut, and ensuring you are mentally stable to carry out the procedure.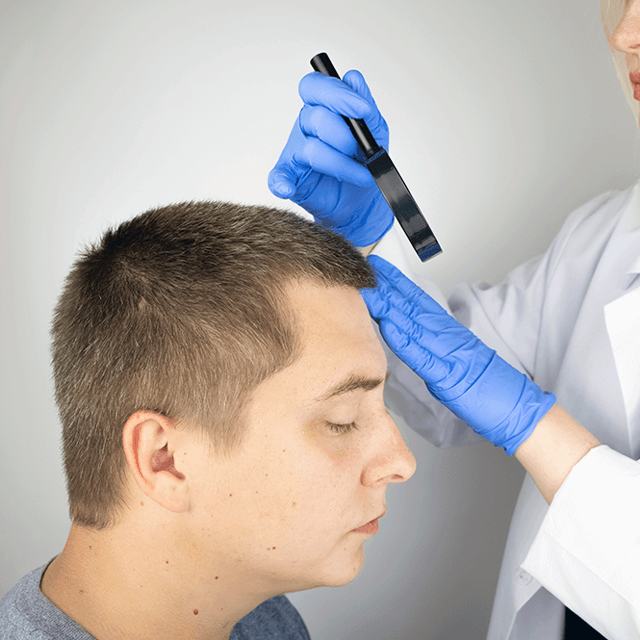 At the first consultation the doctor will examine your hairloss by going over the scalp either at a direct consulation, or via pictures from you.
You will also be asked about the history of your hair loss, family history et. al.
On the day of your surgery, you will be met by your surgeon and all of the expertly trained medical staff and nurses who will be looking after you. The procedure is carried out in an accredited hospital equipped with a complete Emergency Room and a variety of doctors trained by the American Heart Association for Adult Cardiac Life Support.
Once briefed, you will proceed to your procedure and be administered a local anesthetic before any incisions are made in order to reduce pain and discomfort.
After your procedure, you will be given a comprehensive explanation as to what to expect and what your recovery timeline will be like, as well as be offered the option to visit the clinic whenever you want for advice and follow-ups.
---
The cost of a hair transplant in Turkey is one of the primary reasons people opt to travel here for their procedure. In fact, Turkey is almost ⅓ cheaper than any clinic found in the UK.
European countries typically offer their patients a price quote depending on the number of grafts that need to be extracted. This can end up being a rather costly procedure. Luckily for you, in Turkey, many patients are offered hair transplant packages that include all necessary medications, transfers, accommodation, transplant, and after-care with no hidden costs.
In Turkey, a hair transplant package on average is around €2,300, but prices can be as high as €6,000. This cost, although may seem high, is nearly three times cheaper than hair transplant costs in the UK and USA.
When it comes to pricing at the Smile Hair Clinic, you can be sure that your quote will be more than affordable. The best part? This procedure means you need to go to turkey. So what more could you ask for other than a transplant and a vacation at the same time for a cost that is three times cheaper than the UK?
When it comes to quoting a price for you, your surgeon must first assess your hair to determine the best hair transplant package for you, as you may be able to get a cheaper package depending on the extent of your hair loss.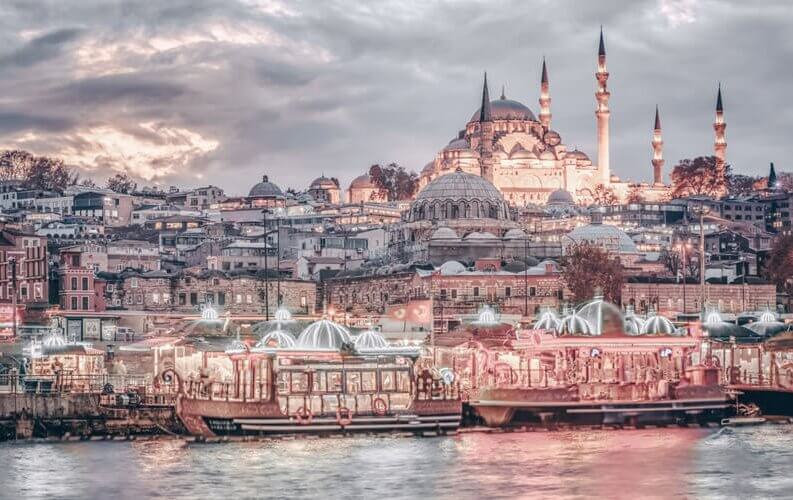 The cost of a hair transplant can be quite steep, especially if its a severe case of hairloss and the procedure is done in Britain.
A turkish Clinic such as Smile is generally much much more affordable.
Financing
Unfortunately, the Smile Hair Clinic does not offer a financing option. Although this may be a considerable factor for some people, it is essential to understand the pricing.
Transplants in Turkey are considerably cheaper than in the UK and offer you a sort of medical, all-inclusive holiday for a fraction of the price of a procedure in the UK. People don't typically pay for a holiday through finance, and so a Turkey hair transplant must be paid direct either via cash or bank transfer.
Pros and Cons
Having gone through a variety of reviews for the Smile Hair Clinic, it is fair to say that this clinic has exceeded all of our expectations when it comes to affordable and outstanding hair transplants. From micro-FUE to Sapphire-FUE to all-inclusive meals-included surgery, we believe Smile Hair Clinic is truly one of the best. So what are its pros and cons?
PROS:
Cheap
Amazing surgeons
Wonderful, large clinic
On-site ER
Variety of procedures offered
CONS:
No finance options
In Turkey – this is only a con for those who don't like travelling
Clinic locations
Having established itself as a renowned hair transplant clinic, the Smile Hair Clinic is located in Ataşehir, one of the most popular districts in Istanbul, Turkey. The clinic is HUGE and has over 10 floors, offering its patients a comfortable 1600m2 of state-of-the-art equipment.
You can find the clinic easily by accessing public routes such as the Metro and getting off at Yenisahra or the Metropol shopping center in Istanbul.
| | | | |
| --- | --- | --- | --- |
| Adress | City | Zipcode | Country |
| Arbaros, Şen Sk. No : 10 | Istanbul | 34746 | Turkey |
You are watching the apartment complex at the adress where the Smile Hair clinic has its offices in Istanbul.
Unfortunately The clinic don't provide their visitors with a picture of the outside view of the offices – this one is taken from Google Maps.